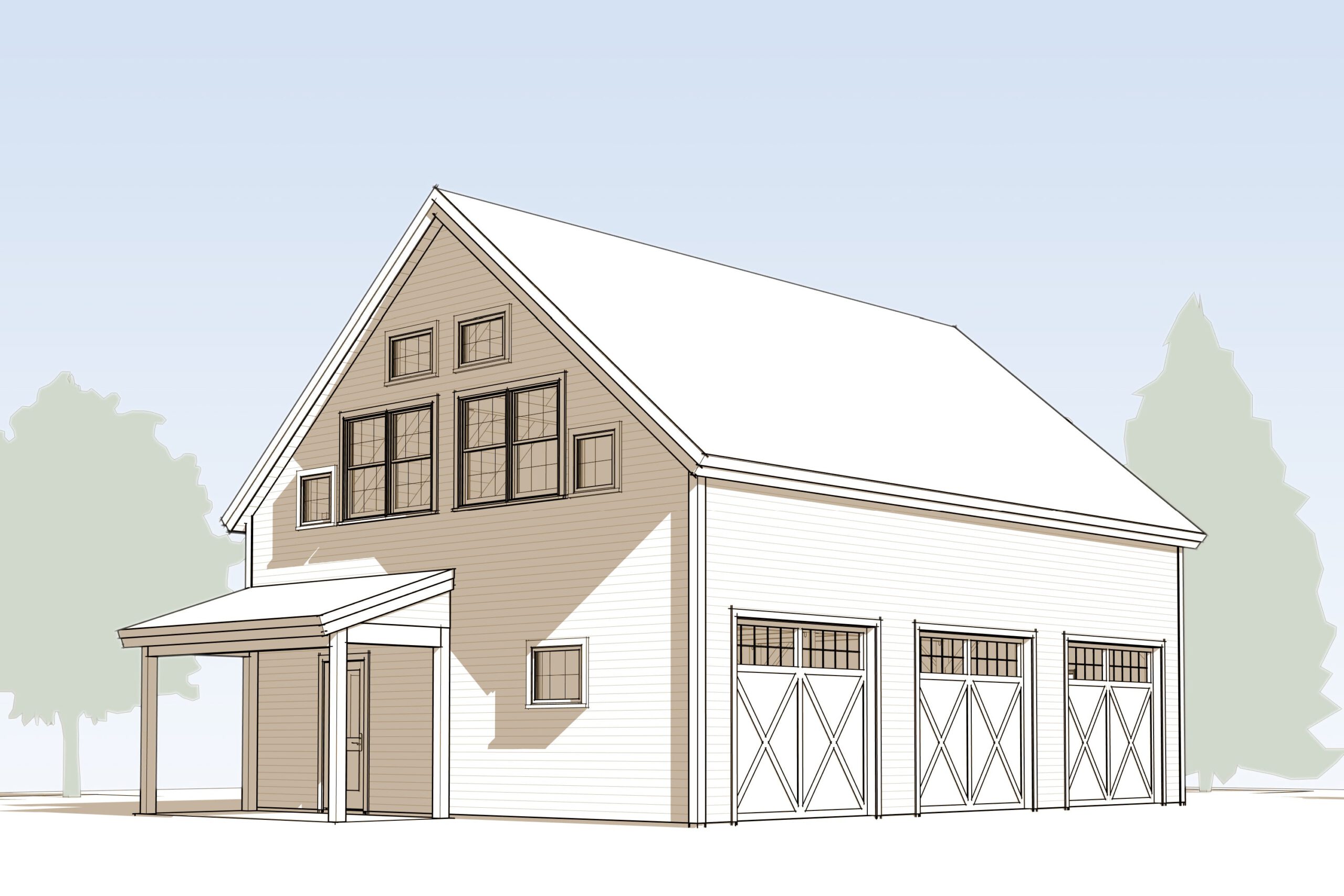 The
Whiteface Carriage House
The Whiteface Carriage House
This 29′ x 37′ design comes in the shape of an historic barn, but is configured for three-bay parking. Cars, a tractor, the boat, even the snowmobiles can be stored handily in this roomy garage. After a day of work or play, enjoy the view of your property and beyond from the apartment upstairs. With two bedrooms and an open-floorplan kitchen and living area, this might be all the space you need! The two-in-one Whiteface Carriage House is also a great choice as a home away from home or a guesthouse. Or, build the Whiteface first and stay there in comfort while you build your dream home!
Modify a Stock Plan
Love one of our plans but expect to need some tweaks? We're here to help.
Modify Any Plan
Create a Custom Design
We don't believe in cookie cutter. Tailor this home plan to fit your needs.
Create A Custom Design
Our process
Here's how it works
Our first goal is to listen to what you want and answer your questions about plan and construction options. We will guide you through plan design and development, provide you with detailed quotes for our products and services, and coordinate with you and your contractor from start to finish. On raising day, our easy to assemble frames, precision craftsmanship, and decades of experience help make your project a source of pride and a legacy for future generations.
Kit Pricing
Timber Frame: $52,800
SIP Panels: $48,400
Ceiling Roof Boards: $6,050
Total: $107,250*
Per sqft: $49.98
*Prices are subject to change. We make every effort to update the website, but you should always check with us for the most current prices. Shipping and taxes are not included.
Support & consulting
From gathering ideas to putting the final touches on your project, Brooks Post & Beam is your guide. We provide a roadmap of what to expect, turn your needs and wants into professional timber frame designs and, in turn, frames, and we support and strengthen your relationships with contractors.
Our decades of experience and our personal relationships with clients allow us to support them with empathy and integrity. Each person who works in our small company gets to know our clients in a way that makes this support a personal mission for each of us: We want to make your dream a reality and protect you from foreseeable trouble in the process.
Your owner's manual, tailored to your building, its systems, and your needs, will continue to support you long after we've celebrated a successful project! Every Brooks Post & Beam home project comes with its own custom Owner's Manual — a guide to the building and its systems. The manual answers owners' questions and lists ongoing tasks and decisions to ensure there are no missed opportunities. This personalized repository of information is invaluable in getting the most out of your project!
What's included
Your questions answered
Get answers to all of your questions.